Firstly please help me click the nuffnang logo on the right / the nuffnang ads and this link
http://sg.churpchurp.com/imyuki/share/vaseline1
http://sg.churpchurp.com/imyuki/share/nuffnangX
http://sg.churpchurp.com/imyuki/share/changeagent
you can close it after finish loading...
Thanks !
---
Guess Who's Back ?
YES !!
FURBY IS BACK NOW !!
This time,
They came back with LED EYES !
when I saw Xiaxue facebook of her Furby and Igloo,
I so keen to get this talking toy,
actually I wanted to get the white one
It's so cute right ?!!
but My boy said that it will get yellowish after some time,
so I was like
then, I saw the Blue colour Furby,
I immediately fell in love with it !
But when I went to Nubox and Epicentre,
they claim that only Yellow, Purple and Orange has launch,
But I don't believe it,
So on the next day,
I went to Toy R Us @ Vivocity to look for it,
I FINNALY FOUND IT !!
but it was the last one,
I was SOOOOOOOOOOOOOO happy !
and I'm thinking that the God loves me sooo much and I feel gratitude !
I went to Coffeebean immediately to put in the battery to start playing with it !
It was so talkative and keep singing,
it was so embarrasing when I went on the MRT with everyone looking at me
lolololol
when I'm home,
I quicky download the "Furby app"
to play with my Furby,
It has many awsome feature,
like "Pantry" and "Deli'
(I will upload some pictures later)
and the most importantly
the "Furbish Translator"
Every Furby started like a Baby
they don't know English,
But after you get along with it,
They will start speaking English,
For my case,
My Furby know how to say
"Like Seriously ?"
"Me Hungry !!"
"Dance ! Dance ! Dance"

I am very exiciting when I first hear it saying this,
Here are some picture of my Furby,
I just bought it yesterday !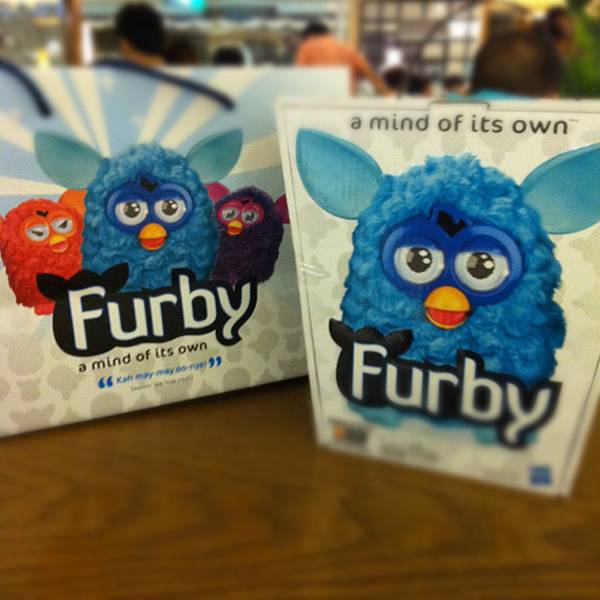 and did I mention that you will get a Goodie Bag when you buy your Furby ?
while stock last !
Will update more about it =D